Week Ending March 5, 2021
$1.9 trillion from the American Rescue Plan will support communities and public services
Fund the Front Lines Updates

Senate Approves American Rescue Plan; House Poised to Approve Changes
Member Spotlight: Sue Conard
Thank you AFSCME Affiliates, Leaders, Retirees and Members!

House Action

House Passes For The People Act (H.R. 1)
George Floyd Justice in Policing Act (H.R. 1280)
Build America's Libraries Act Introduced (H.R. 1581)

Biden Cabinet Confirmations

Miguel Cardona Confirmed as U.S. Secretary of Education
Senate Approves American Rescue Plan; House Poised to Approve Changes
Senate Democrats approved an amended version of the American Rescue Plan by a vote of 50 to 49, including adding an additional $10 billion for states to use for critical capital projects, increasing temporary insurance premium subsidies for COBRA from 85% to 100%, and extending unemployment benefits through Labor Day. The House's minimum wage provision violated Senate rules and was stripped. The House is expected to approve this final version early in the week of March 8 so the bill can become law prior to the March 14 expiration of important benefits like Unemployment Insurance.
Member Spotlight: AFSCME Retiree Sue Conard
Sue Conard may be retired, but she continues to play the role of public health nurse, urging her community to get vaccinated and helping where she can. When the jail where her son works was unprepared for the pandemic, she came to his aid. Now, he's coordinator of the emergency pandemic response team at his facility.
Thank You AFSCME Affiliates, Leaders, Retirees and Members!
Your hundreds of thousands of phone calls, tweets, emails, conversations with elected officials and your participation in press events pushed Congress to approve a $1.9 trillion COVID aid package with $360 billion in flexible funds for our cities, counties, towns and cities. Thank you! These funds will keep public employees on the front lines, providing the services needed to crush the virus and rebuild our economy. Please join us in thanking your Democratic and Independent senators who joined our effort by retweeting the thank you message below and tagging your supportive senators.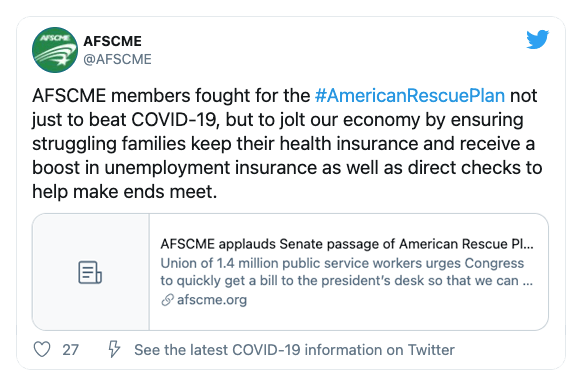 House Passes For The People Act (H.R. 1)
The House passed the For The People Act (H.R. 1), a sweeping voting rights and elections reform bill, with only Democratic support in a 220 to 210 vote. It reestablishes core parts of the Voting Rights Act, limits corporate abuse in elections, and makes it easier for everyone to vote. President Lee Saunders noted, "The concentration of power in the hands of wealthy elites is silencing the voices of working families, especially communities of color. H.R. 1 would loosen that grip, instituting long-overdue reforms to restore accountability and re-enfranchise millions … to ensure that everyone eligible to cast a ballot can do so free of obstacles, intimidation or suppression tactics."
George Floyd Justice in Policing Act (H.R. 1280)
The House passed the George Floyd Justice in Policing Act (H.R. 1280) by a vote of 220 to 212, mostly along party lines. The bill includes measures such as restricting certain funds to local governments that allow law enforcement officers to use choke holds, banning "no-knock warrants" that allow police officers to enter premises without announcing themselves, and requiring law enforcement agencies to provide data on instances when police officers used deadly force. The bill modifies the doctrine of qualified immunity in civil rights lawsuits against police officers. The path forward in the Senate is unclear.
Build America's Libraries Act Introduced to House
Rep. Andy Levin (D-Mich.) introduced the Build America's Libraries Act (H.R. 1581), the House version of the Senate bill (S. 127) introduced by Sen. Jack Reed (D-R.I.). AFSCME supports these bills to provide $5 billion over three years to upgrade our nation's library infrastructure. Public libraries are unique in our communities' learning, economic and civic infrastructures. On average, they are more than 40 years old and need large-scale improvements and modernization.  
Miguel Cardona Confirmed as U.S. Secretary of Education
The Senate voted to confirm Miguel Cardona as U.S. Secretary of Education in a 64 to 33 vote. AFSCME President Lee Saunders stated: "Secretary Cardona brings a remarkable breadth of experience to the job, having worked as a teacher, school administrator, professor and state Commissioner of Education. In addition to addressing head-on the complex issues related to the COVID-19 pandemic, he will be deeply committed to upholding the Department of Education's mission to ensure equal access to a good public education."