Week Ending March 12, 2021
With the Help of AFSCME Members, the American Rescue Plan is Signed Into Law
Fund the Front Lines Updates

Funds are Going Out to the Front Lines and Families
Thank You to the Green Machine and President Joe Biden


Senate Action

New Bill Would Rebuild the Public Health Workforce

House Action
Biden Cabinet Confirmations

Senate Approves Merrick Garland as U.S. Attorney General
Marcia Fudge Confirmed as HUD Secretary

Funds Are Going Out to the Front Lines and Families
With only Democratic votes, the U.S. House of Representatives approved the Senate's changes to the $1.9 trillion COVID-19 relief bill to jumpstart the economy, distribute the vaccine and help families. The American Rescue Plan Act of 2021, signed into law by President Joe Biden Thursday, will send $360 billion in flexible aid to state and local governments. Overall, more than half of the funds will benefit American households and could reduce the numbers of Americans living in poverty by one-third. See details in our analysis here.
Thank You to the Green Machine and President Joe Biden
You helped us cross the finish line! The yearlong AFSCME Fund the Front Lines 
campaign, led by President Lee Saunders and your AFSCME family, produced:
Over 150,000 calls and emails sent by AFSCME member and retiree activists like you;
More than 50 affiliate and local letters to members of Congress detailing specific state and local budget shortfalls;
Hundreds of lobbying meetings, the engagement of affiliate leaders with over 800 governors and state and local elected officials, the support of more than 400 allied organizations; and
TV ads, a digital ad campaign, 33 press events, and 37 #fundthefrontlines Tweetstorms. 
Please join us in retweeting the president to share details about the federal aid coming to you and your communities soon that you worked hard to secure.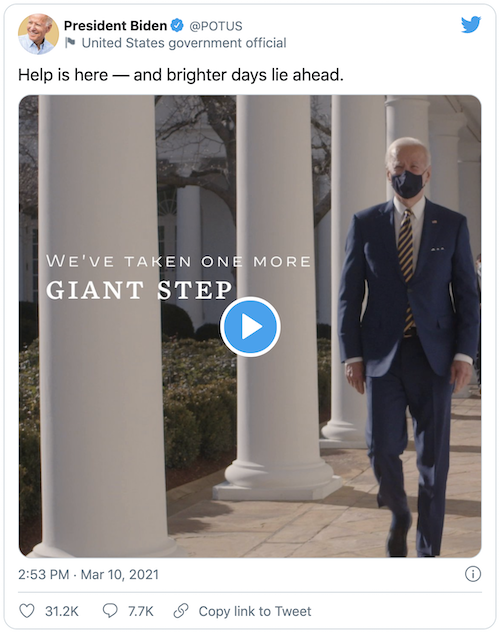 Rebuilding the Public Health Workforce
Years of funding cuts to state and local public health departments resulted in a skeleton crew to respond to the COVID-19 pandemic, putting public health workers and public health itself at risk. Since 2008, local health departments have lost 21% of their workforce. In 2020, some local public health department furloughed staff because of budget cuts. Thanks to Sen. Patty Murray (D-Wash.) there is a path forward to invest in state and local public health workforces. Over five years, her bill, the Public Health Infrastructure Saves Lives Act would build up to $4.5 billion in annual funding to sustain improved staffing and infrastructure at all state and local public health departments. AFSCME endorsed this bill and is advocating for the inclusion of significant investments in public health in the pending infrastructure package to build our nation back better.
PRO Act Passes the House
With bipartisan support, the House of Representatives passed the "Protecting the Right to Organize (PRO) Act" (H.R. 842) by a 225 to 206 vote. It is now headed to the Senate. H.R. 842 amends labor law for private sector workers and would protect them from anti-union intimidation and retaliation, impose penalties on employers who violate workers' rights, and address the misclassification of workers. Saunders praised the passage of the PRO Act and urges Congress to advance the Public Service Freedom to Negotiate Act (PSFNA), which will be introduced soon, to establish collective bargaining rights for public employees.
Senate Approves Merrick Garland as U.S. Attorney General
The U.S. Senate approved Merrick Garland's nomination to be U.S. Attorney General in a 70 to 30 vote. Saunders noted Garland's history of addressing issues critical to working people and noted he will "lead the Department of Justice with integrity, compassion and adherence to the rule of law at a moment of unprecedented challenge for the nation and working families."
Marcia Fudge Confirmed as HUD Secretary
The Senate voted 66 to 34 to confirm Rep. Marcia Fudge (D-Ohio) as Secretary of the Department of Housing and Urban Development (HUD).  Saunders applauded her confirmation, noting she "is a longtime champion for working people and a passionate advocate for affordable housing, a leader in the fight against poverty who is deeply committed to advancing inclusion and equity for all. … AFSCME is especially interested in ensuring that America's public housing is safe, well-maintained and efficiently run. We have every confidence that Secretary Fudge will make that a centerpiece of her work at HUD."