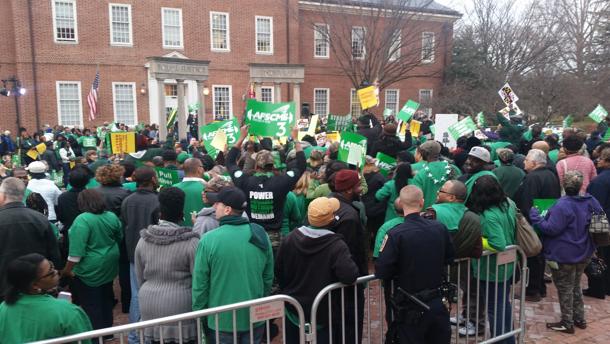 ANNAPOLIS, Md. – More than 500 workers from every corner of Maryland converged on the state Capitol to rally against Gov. Larry Hogan's plan to take away a pay raise from workers and drastically cut essential programs. Workers are supporting the Better Budget for Maryland plan, adopted unanimously by the House of Delegates Appropriations Committee.
"Legislators have a choice between Governor Hogan's budget that slashes education spending and takes away a 2 percent pay raise for state and university employees, and the House Appropriations Committee's budget that saves the 2 percent pay raise and restores 90 percent of Governor Hogan's cuts to our classrooms," said AFSCME Council 3 Pres. Patrick Moran.
"This plan strengthens our pension by investing $1.52 billion into the fund. Maryland remains one of only a handful of states that invests more into our pension fund than is actuarially required," he said.
AFSCME Council 3, Council 67 and ACE-AFSCME Local 2250 members were joined by AFSCME Retiree Chapter 1 and teachers represented by the American Federation of Teachers and Maryland State Education Association (MSEA).
From day one, newly elected Governor Hogan has taken aim at public workers and teachers. In his first budget, he planned to take away a 2 percent wage increase negotiated in the state workers' most recent contract. "We will not sit idly by and take this abuse," Moran told the crowd. "Together, with our sisters and brothers from MSEA, our AFSCME family from Baltimore and countless residents from across the state, we will make clear that we all deserve a better budget for all of Maryland."
Glen Middleton, AFSCME Council 67 executive director and also International vice president, added, "All Marylanders stand in solidarity with the state's workforce to urge elected officials to make the right choice for a better budget for all of Maryland. Our legislators need to keep an eye on our future by fully funding our education priorities."
The House of Delegates approved the Better Budget plan March 18, and the state Senate is expected to take up the measure soon. The governor still has the ability to veto the plan, but AFSCME Council 3, AFSCME Council 67 and ACE-AFSCME Local 2250 will continue to fight back.