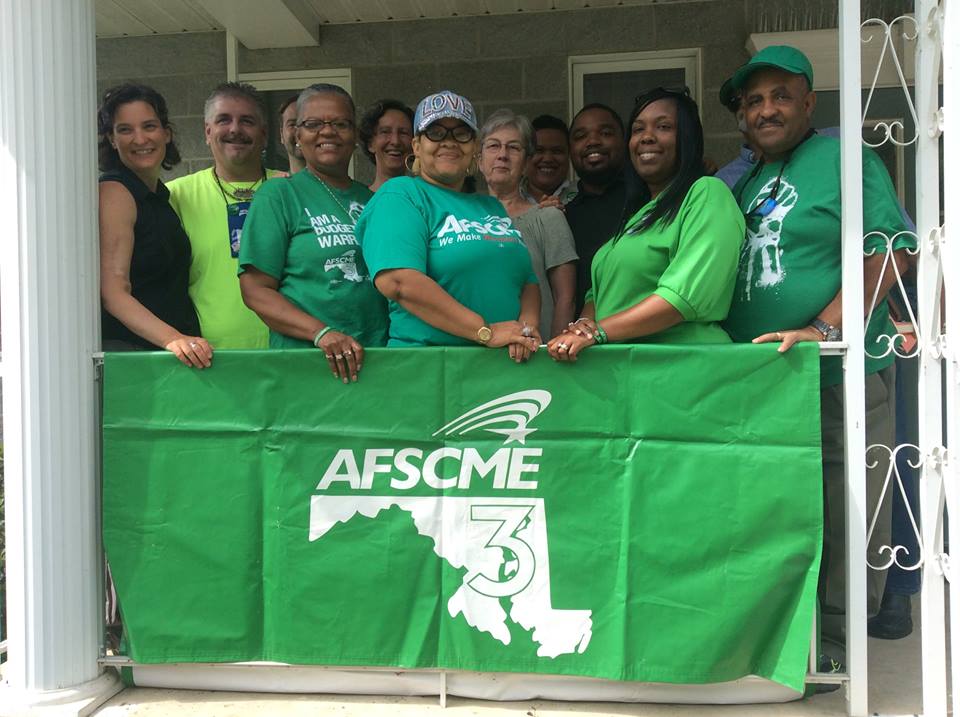 Volunteer member organizers (VMOs) from AFSCME Maryland (Council 3) made a four-day-long push in western Maryland this month to convert agency fee payers to full members. And they succeeded, signing up close to 130 new AFSCME sisters and brothers.
The successful effort was bolstered by the presence of AFSCME's Secretary-Treasurer Elissa McBride, who joined VMOs in making on-site and home visits, adding to AFSCME Maryland's momentum.
"It was inspiring to spend time in western Maryland and see their incredible blitz model in action," McBride said. "I valued the opportunity to hear from state employees in their homes and their workplaces. What Council 3 is doing is strategic, important and right on time for their contract campaign."
This blitz, the first of six statewide, comes before contract negotiations are set to begin for 25,000 state workers this fall. The message to agency fee payers is clear: if you don't have full union rights as an AFSCME member, you're telling the state, "I don't care if I get a raise."
But Marylanders do care – about their working conditions, wages and benefits.
Staffing levels were among the biggest concerns. In fact, the blitzes are also happening in preparation for upcoming meetings AFSCME members are having with each Maryland agency secretary around that very issue.
Jeff Grabenstein, a corrections officer at North Branch Correctional Institution and president of Local 898, heard the anxiety over staffing levels frequently during his blitz.
"People are afraid that low staffing is going to throw off security and safety," said Grabenstein, referring to the troubling cycle that occurs when prisons are understaffed. It's an issue that hits close to home for the 10-year veteran of the Maryland Department of Corrections.
AFSCME Maryland is also pushing for higher pay for corrections officers to attract more of them, which would lead to a safer prison system.
"The good news is we had a lot of conversations," Grabenstein said. "We set up in the cafeteria and talked to a lot of people when they came in for chow time."
He said that engaging with people and talking to them led to 40-50 sign ups – a sizable chunk of the overall blitz sign-up numbers.
AFSCME members listened as public employees shared their concerns about losing their voice on the job and about their families and their communities. And as the number of sign-ups prove, people were equally interested in hearing how joining AFSCME builds power on the job.